---
PART 11: A LITTLE BLING BLING FOR THE STREET
A Little Indulgence...Just a Little One.
In the meantime while I'm driving Rusty around on the street, and scaring the neighbors, I thought I'd treat myself with a little bling bling. Sorta. The stock wheels and tires are SKINNY, me being used to the big meats on the 3rd Gen RX-7.
Which would you choose? Tire number 1 on the right or tire number 2 on the left?
I'd heard that the stock 3rd Gen RX-7 rims will fit on the 2nd Gen car...with a little help from some wheel spacers. With that I began my hunt for some spacers... no luck. H&R, the only manufacturer of hub-centric spacers for the 2nd Gen RX7, discontinued the item. But Rays (of Volk Racing fame) makes a stud-centric spacer with the correct bolt pattern and thickness to fit.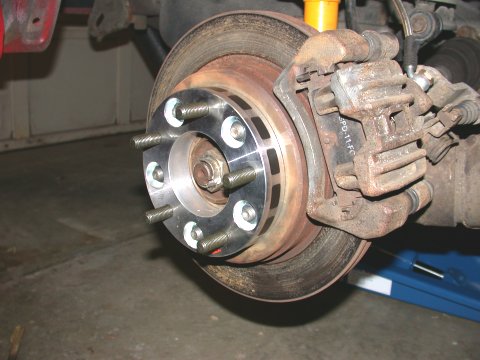 J-spec wheel spacers!
For the street this was fine. And they were about $100 cheaper than the H&R spacers too. These were purchased poste-haste and my mint condition 3rd Gen RX7 wheels and tires were rolled out of a 5 year retirement. And installed they look fabulous. Clearance in the front between the tire and strut is minimal - 1/16" but it fits. The front wheels do stick out and preclude slamming the car too low but the big 245/45ZR16 tires really do fill out the fenders in the front and rear nicely. With a nice set of street tires I can now mount some track tires on the old OE rims and ditch the K-Mart All season M&S tires previously on the car.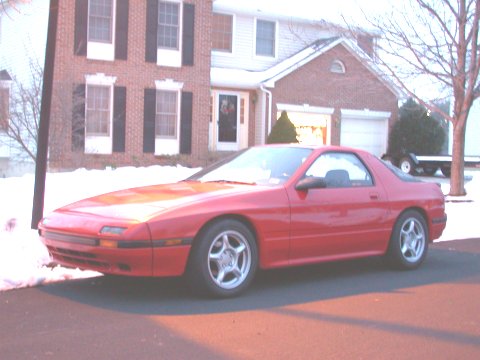 BEEFY!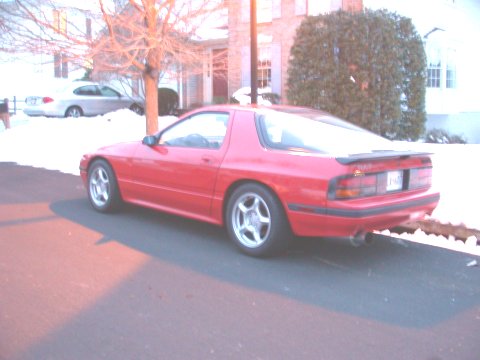 The car actually looks serious now vs. the ballarina skinny tires it used to ride on.
---
Hooptie to Hotrod: Part 1
Scrap Metal: Part 2
Cosmetic Fluff: Part 3
Brake Gravy: Part 4
Exhaust Work: Part 5
Dieting and Some Oil Cleanup: Part 6
Cooling Hacks: Part 7
Underhood Miscellaneous: Part 8
Interior Gauges Plus: Part 9
Own a Lincoln? Suspension Upgrades: Part 10
New Shoes: Part 11
What's Next: Part 12
A Twist: Part 13
Sweatin' to the Oldies: Part 14
More Suspension Work: Part 15
Some Heart and Soul: Part 16
Chapter II: To Jump to the Next Series of Installments: Begins with Part 17 - A Good Rear End
---
BACK TO THE MAIN PAGES AND THE 3RD GENERATION RX-7 STUFF
7-UP CLUB MAIN
OUR "LOCAL7" COMMUNITY | THE WORLD OF THE RX-7

---
If you would like to contact me and converse about my experiences with my RX-7's:
please feel free to send an e-mail to crispyrx7@yahoo.com
This page last updated December 11, 2003

---
Disclaimer: All images contained on this page are the sole property of C. Regan.