---
PART 5: BIG BROTHER IS WATCHING YOU
The Emissions Notice Arrives
Two months after registering the car the emissions test notice came. I reinstalled the sixth port actuators and reinstalled the OE air box in case they had to do a visual inspection. Went to fix the air pump split air pipe and..... jeepers! This car has a gutted aftermarket cat! No wonder the car didnít have the split air pipe connected. Lucky for me I have a good friend who graciously loaned me his OE main cat for the emissions test and well lets just say it passed...much to my amazement. The car was now 100% street legal. So now I can really set to work.

---
Progress and Expenses Recap
CAR INITIAL COSTS and BRAKE COSTS:
1986 Mazda RX-7 Sport $1000.00
OE pax motor mount (new) $39.19
Front brake pads (new) $17.99
Headlight (new) $ 9.00
Rust repair materials $35.00
Spray paint for body and wing $15.00
MD state Inspection $85.78
MD 2 year registration $136.50
MD emissions test fee $14.00
Exhaust gaskets for temp Cat install (new) $11.41
Spare key $4.00
Corksport SS brake lines (new) $89.00
Corksport SS clutch line (new) $18.00
Valvoline DOT4 synthetic brake fluid $5.99

---
Total $1480.86
So for just shy of $1500 I actually have a pretty cool daily driver! Keep in mind also that $236.00 of this was merely state "fees" to get it road legal. So in all I have a pretty decent and safe car for $1250.00.
---
Now For Some Serious Exhaust Work
With emissions safely taken care of the first thing I wanted to do was ditch the original factory exhaust. It was so rusty in places that to repair flange leaks in the past they had simply welded the flanges together. Add to this a drivers side muffler that was literally hanging off, and the lack of a main cat, the whole system needed to be replaced.
The old rusty exhaust - note angle of drivers side muffler, it was not attached to the rest of the exhaust.
An exhaust "repair" - just weld it!



In all it's splendor - headers, presilencer, no cats, and a single 3" outlet.
Here we go folks....want power you have to use headers. And some of the best headers come from Racing Beat. Not exactly cheap but they are perhaps the best power "bang for the buck" for a normally aspirated rotary. So a road racing/street header and presilencer were purchased and installed.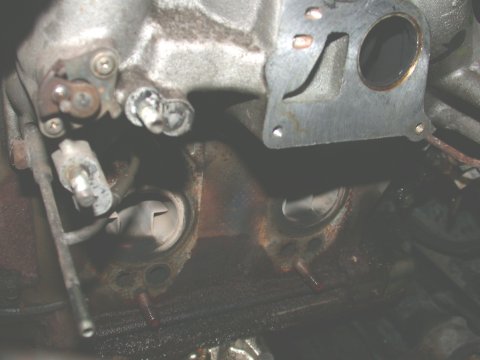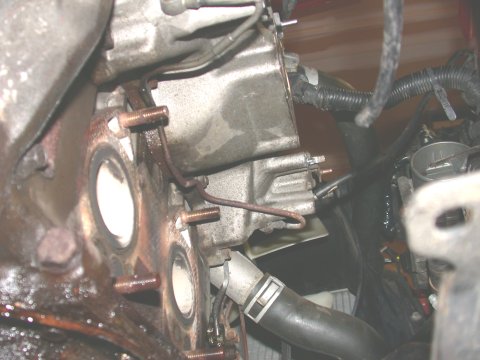 With ACV, actuators, and OE cast manifold removed.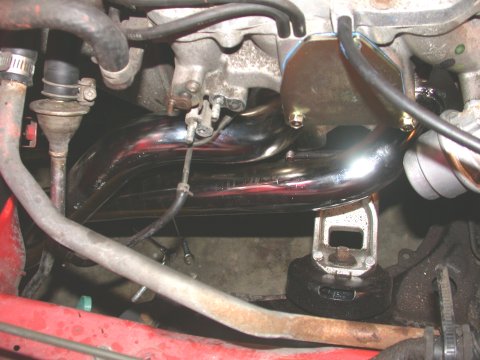 A comparison: the old exhaust and the new. RB header installed and ACV blocked off.
In the interest of weight savings I wanted a single outlet exhaust. And Corksport was kind enough to oblige with probably one of the most cost effective "cat backs" Iíve ever seen. This is a SS mandrel bent, essentially full 3" pipe, with a polished SS muffler and tip, that comes with gaskets and hardware for only $289.00. ShaZAAAM! Sold. Gone was the entire OE exhaust. In the process of replacing the exhaust and with no cats the air pump was no longer needed so was removed - more weight savings. Similarly with no air pump the air control valve was removed and a blockoff plate (supplied by Racing Beat) installed.
The original ACV spaghetti. Now you see it now you don't.
Ah but what about the 6th port actuators you say. Well the RB presilencer comes with a split air pipe connection which supplies just enough back pressure to work the 6th port actuators. Sounds like a winner to me.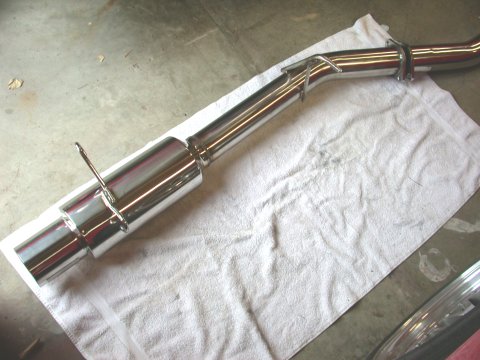 Corksport Cat back exhaust. The Racing Beat Presilencer with split air pipe
Racing Beat hardware to eliminate the ACV and relocate the O2 sensor. The Corksport exhaust installed
With the new exhaust I also installed a new O2 sensor - the existing sensor looked to be the original and was not going to come out of the manifold (I snapped my O2 socket attempting its extraction). Installed, the new exhaust looked fabulous. But there was a problem. Jiminey Christmas this thing was LOUD! Made my one year old daughter cry and run screaming in fright from the garage door when I started it for the first time with the new exhaust. This was NOT going to be "streetable." Thankfully Corksport also offers a muffler insert to quiet things down a bit. I say, a bit. It is quieter now but still requires a very light foot on the street lest you want to chat with the local constabulary.

---
Exhaust Expense Recap
EXHAUST WORK:
Corksport SS Single catback (new) $289.00
Exhaust shipping $35.00
Racing Beat Header (new) $187.00
Racing Beat Presilencer (new) $198.00
Header to block gasket (new) $18.00
Bosch O2 sensor (new) $17.99
Muffler insert (new) $18.00

---

Total $762.99

This may seem kind of expensive but the car needed an entire new exhaust anyway and the exhaust is still the best place to find more power. Iíd estimate this combination is good for at least another 20-30hp and on a car with 146hp stock this is a pretty decent increase.

Loud and Obnoxious but oh so intoxicating. I dub thee - ATOMIC CHAINSAW!
---
Hooptie to Hotrod: Part 1
Scrap Metal: Part 2
Cosmetic Fluff: Part 3
Brake Gravy: Part 4
Exhaust Work: Part 5
Dieting and Some Oil Cleanup: Part 6
Cooling Hacks: Part 7
Underhood Miscellaneous: Part 8
Interior Gauges Plus: Part 9
Own a Lincoln? Suspension Upgrades: Part 10
New Shoes: Part 11
What's Next: Part 12
A Twist: Part 13
Sweatin' to the Oldies: Part 14
More Suspension Work: Part 15
Some Heart and Soul: Part 16
Chapter II: To Jump to the Next Series of Installments: Begins with Part 17 - A Good Rear End
---
BACK TO THE MAIN PAGES AND THE 3RD GENERATION RX-7 STUFF
7-UP CLUB MAIN
OUR "LOCAL7" COMMUNITY | THE WORLD OF THE RX-7

---
If you would like to contact me and converse about my experiences with my RX-7's:
please feel free to send an e-mail to crispyrx7@yahoo.com
This page last updated December 11, 2003

---
Disclaimer: All images contained on this page are the sole property of C. Regan.