---
PART 4: BRAKE GRAVY
And This is Not The Kind of Gravy to Serve at Thanksgiving
One part that is always overlooked on older cars are the brakes. So while I was in replacing the front brake pads for the state inspection I took note of the condition of the brakes. YUK! Caliper pistons seals looked ok and nothing bound up when I was changing pads but the brake pedal feel felt like a sponge. Add to this 20 year old brake lines and the whole setup was suspect. So I installed new SS brake lines front and rear, and flushed the brake system with Valvoline synthetic brake fluid. The Valvoline DOT4 stuff worked well on my 3rd Gen RX-7 for a few years so should be fine on a lighter "slower" car. While flushing the brake system I saw some of the nastiest brake fluid I have ever seen come out of those brakes. It literally came out in chunks, like lumpy gravy. EEWWWW! Rotors although rusty were mic'ed and were within spec. Good enough for now. I also replaced the clutch line with a SS line and bled the hydraulic clutch system. Brake pedal feel now is pretty good. Still waiting on that emissions test notification though.

Before and after front brakes w/new SS brake lines.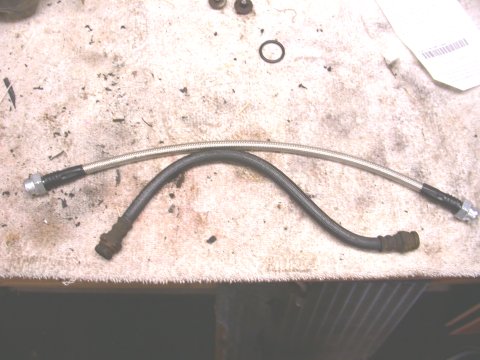 17 year old brake fluid! New SS clutch line.
---
Hooptie to Hotrod: Part 1
Scrap Metal: Part 2
Cosmetic Fluff: Part 3
Brake Gravy: Part 4
Exhaust Work: Part 5
Dieting and Some Oil Cleanup: Part 6
Cooling Hacks: Part 7
Underhood Miscellaneous: Part 8
Interior Gauges Plus: Part 9
Own a Lincoln? Suspension Upgrades: Part 10
New Shoes: Part 11
What's Next: Part 12
A Twist: Part 13
Sweatin' to the Oldies: Part 14
More Suspension Work: Part 15
Some Heart and Soul: Part 16
Chapter II: To Jump to the Next Series of Installments: Begins with Part 17 - A Good Rear End
---
BACK TO THE MAIN PAGES AND THE 3RD GENERATION RX-7 STUFF
7-UP CLUB MAIN
OUR "LOCAL7" COMMUNITY | THE WORLD OF THE RX-7

---
If you would like to contact me and converse about my experiences with my RX-7's:
please feel free to send an e-mail to crispyrx7@yahoo.com
This page last updated December 11, 2003

---
Disclaimer: All images contained on this page are the sole property of C. Regan.