---
PART 13: THE FC BUILDUP TAKES AN INTERESTING TWIST
Starting from a clean slate...sorta?
When last updated things were progressing well on the buildup of "Rusty." I had bought a used aftermarket steering wheel (two actually, a Sparco and a Momo - dunno which one to use yet) and have ordered a quick release steering wheel hub. I also had installed a cheapie eBay front strut tower brace. Don't laugh...for $9 it works! But there was the purchase of one very big item looming. The **ROLL CAGE** Short of "working" over the engine the roll cage is close to the single largest expense and investment in a race car you will most likely make. It's probably also the most important...for your personal safety. Several factors had to be considered when deciding what to do about the roll cage, this car after all was being prepped to *eventually* race. The first factor being one of cost. If my car, "Rusty,"right from the start was to be prepared for racing it would have been sent straight to a fabricator to install the roll cage as soon as I had gotten it home. But me being me, I wanted to drive the car on the street for a while to work out all the other issues before turning it into a full on race bucket. Hence the delay. That and the fact that current pricing for a decent roll cage in my area runs about $2000 to $2200. (ULP!) So given my rational and lack of a spare $2200 for a single "car" item I began Rusty's buildup around the cage. And there was one other issue, that in retrospect made my decision to delay the cage a good one. Since day one when Rusty (a Pennsylvania car) was first examined and inspected the amount of underbody and frame rail rust was disturbing. Nothing to worry about for a street car or possible occaisional track toy mind you, but for a car that will be tweaked, twisted, and heavily "loaded" while racing I had always questioned the logic of spending the $2000+ putting a cage into a chassis that might rust out beneath it in a few years. And so there I was at the crossroads of Rusty's buildup.
A word of advice, if your goal is to go racing, BUY A USED RACECAR. Don't try and build your own. It is much cheaper to buy a used racecar. I, however, being a stubborn pigheaded fool enjoy the challenge of building my own car with my own hands. This way I know how it was assembled, how it all works...in case it breaks (which it will), and how well (or poorly as the case may be) it was made. There is, however, always the finances to consider. How well can you afford to build your own car? And hence I was back to the question of the roll cage.
---
A New Beginning
So it was at this point that a significant decision was made. With a little help from "another person" I decided that Rusty would not/could not be used as the chassis for my buildup. Shocking, no? As it turns out a fine gentleman (Thanks Carmon!) was selling a used FC (1986 w/no sunroof) racecar complete with a 6 point roll cage. After some questioning and discussion of the legality of the roll cage for SCCA ITS racing, the car, for my purposes, was determined to fit the bill and was a deal.
There it be...in all it's glory. Another FC in my driveway...ULP!
It had been raced for a little over a season (SCCA Solo 1 logbook) and was "straight" as far as I could tell. The car also had no engine (short block- the accessories were all in boxes however) and no differential. It did however have a good transmission, to the relief of Rusty's tranny which whined and groaned through every gear.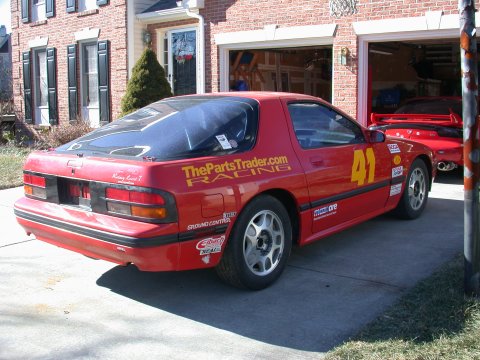 A decent straight body. Roof was a bit dented from an errant fly-away hood but otherwise no significant body damage. Rusty on the other hand had long ago been involved in a front end collision.
A few shots of the 6 point roll cage with door bars.
The car also had EVERYTHING else a race car should - can you say spares? This included:

Fully welded custom Kirk Racing roll cage (installed by Mark Stewart of Kirk Racing) with non-intrusive door bars on driver and passenger side. (Kirk were the same folks who did the roll bar in my FD)

IO camera mount for roll cage (Not that I needed it but it precluded the need to remove my other mount from the FD)

Kirkey aluminum 20degree layback Racing Seat (will sell this one as I already have the Sparco seat which I prefer)

Adjustable seat back brace required for an AL seat but not for the fiberglass Sparco

Fluidyne radiator with only one season of use (I was going to need one of these eventually...a $325 expense saved)

S/S road race header -Mazdacomp Design, 2 outlets ** w/midpipe. (Duplicate...will sell this)

One MSD ignition module on leading ignition (An afterthought...something not on my list but good to have anyway)

Wired with kill switch (needed to do this anyway -so time and money saved here also)

Fire extinguisher (ditto the kill switch)

Window net...new - uninstalled (more savings but still have to purchase mounting hardware)

Ground Control coil-overs (duplicates of what I have already - I liked my spring rates better so these are to be sold)

Ground Control caster/camber plates (these have caster adjustment so I will sell my Cusco plates instead and use these plates)

KYB AGX Adjustable shocks all around (I prefer my Konis so I can sell these)

Full poly bushings (DARN IT! All that time installing the bushings on Rusty! I guess these will be good for spares when my new set on Rusty wear out)

Rear camber adjuster (got one already so will sell this one)

Toe Eliminator Bushings (go in the spares bin along with the rear hubs)

Adjustable sway bar end links (wanted these anyway but weren't in my budget)

Rear sway bar adjustable end links (undecided if I want to sell as I won't be running with a rear sway bar. They are the same as the front units though so might be good for spares)

3" wheel studs w/ aluminum nuts and fitted socket (Excellent, might need if I have to run spacers to fit track wheels)

Braided s/s brake lines (Will sell these as already have new lines on Rusty)

Powerslot rotors (I'll run them until they are worn out, which they almost are - but they are not ITS legal)

Porterfield Race pads (can never have enough spare brake pads)

New wheel bearings - front and rear (Rusty's were questionable so these are good to have)

Braided s/s oil lines (home built variety. Will swap in my good lines from Rusty)

Mazdacomp competition transmission and motor mounts (nice to have items that weren't in my budget before)

Speedsource front lip - not installed (Wow! A $200 lip. No complaints with this item)

And then there were the tons and tons of boxed extra OE parts. The seller virtually emptied his garage.
All this was purchased for $2200. $2200 sound a lot for a car with no engine and diff? Consider the cost of putting a $2000 cage into Rusty with the questionable chassis and this was the right thing to do. The "new" racecar came with close to $1300 worth of performance parts I would have had to have purchased anyway plus many spare OE parts **AND** I have recouped $1432.50 from the sale of duplicate parts. Thus the purchase of the chassis with roll cage, the remaining performance parts, the tranny, and all the spares cost me a little over $765.00. With the performance parts alone valued at about $1300, the roll cage and chassis will have been purchased for nothing. Sounds like a deal to me.
---
A Problem with "The Plan"
The only hiccup to the purchase was the location of the car...Helena, Alabama! Me living in the DC area this meant for a LONG drive. When to pick up the car? Mapquest said 770 miles and 12 hours 24 minutes ONE WAY! I had a spare Sunday free so with the help of a good friend...Big Mac Daddy...we drove down in our own version of the Cannonball Run. Departing at 1AM Sunday morning, after attending a friends party no less, we returned at a little after midnight. It took about an hour to complete the sale in Helena and with that taken care of we were back on the road. We completed the 1523 mile round trip in 22 hours and 8 minutes - half of which was done pulling a trailer with the new racecar. Oh and this included all the stops for fuel...we didn't stop for food. Yes we were crazy.
---
OK..Now What?
The downside to the new direction my buildup has taken is I have to virtually start over with the car and poor Rusty's is to be put back to stock with functional spares I have available and will be sold. All the "good" parts from Rusty need to be swapped over, such as the suspension and the exhaust. It pains me to see all my labor put into Rusty, most notable the bushings and the rust repair, gone for nought but it should at least make the car more marketable when I go to sell the car. Such is life. Anybody want to buy a decent FC? The only remaining obstacle will be to source a decent engine for the racecar and to sell Rusty. On the bright side, I now have virtually every part I need to build my race car short of an engine and a set of 15x7 race wheels - the 15x6 stockers will do for now however. Check back soon for the next progress report.
An intimidating project. It makes my head spin thinking of what lays ahead.

Remove part from "A" car...install on "B" car. Well, not just yet ;-)
---
Hooptie to Hotrod: Part 1
Scrap Metal: Part 2
Cosmetic Fluff: Part 3
Brake Gravy: Part 4
Exhaust Work: Part 5
Dieting and Some Oil Cleanup: Part 6
Cooling Hacks: Part 7
Underhood Miscellaneous: Part 8
Interior Gauges Plus: Part 9
Own a Lincoln? Suspension Upgrades: Part 10
New Shoes: Part 11
What's Next: Part 12
A Twist: Part 13
Sweatin' to the Oldies: Part 14
More Suspension Work: Part 15
Some Heart and Soul: Part 16
Chapter II: To Jump to the Next Series of Installments: Begins with Part 17 - A Good Rear End
---
BACK TO THE MAIN PAGES AND THE 3RD GENERATION RX-7 STUFF
7-UP CLUB MAIN
OUR "LOCAL7" COMMUNITY | THE WORLD OF THE RX-7

---
If you would like to contact me and converse about my experiences with my RX-7's:
please feel free to send an e-mail to crispyrx7@yahoo.com
This page last updated April 12, 2004

---
Disclaimer: All images contained on this page are the sole property of C. Regan.