---
PART 2: ROAD WORTHY OR SCRAP METAL?
Perhaps a Little Rust Repair is in Order.
My desire was to have a "streetable race car" for a few years to iron out any driveability issues. This way I could motor around on public roads before I pulled the registration and made it a track only car. It's much easier to fix a car if you can drive it every day to figure out what's wrong vs. once a month at the track. So first up Maryland state inspection. Uh Oh...Problems! Surprised? Not really as I wasn't expecting a 17 year old car to fly through the inspection. What did they find? Merely a broken passenger side motor mount, worn out front brake pads, and umm..... Some rust. Well actually lots of rust. On the painted side of the car it looked ok for a 17 year old car. Underneath however was another story. Exposed to the Pennsylvania salted roads and snow the underside of Rusty was in pretty poor shape. Several dime sized rust holes when cleaned up turned into 8"x8" sized missed pieces of the underbody. UGLY. Had to get these fixed before it would pass inspection.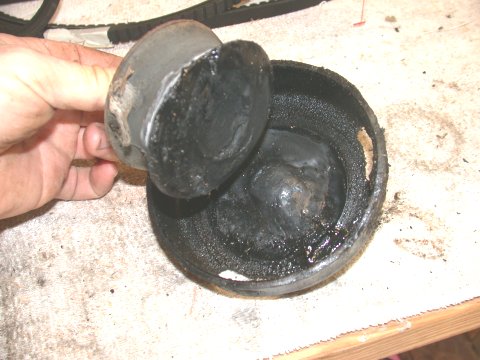 That's not supposed to do that!
---
The Nastiest Job of All: Rust Repair
So I set to work cleaning up the rust underneath. The whole deal from wire brush to grinding wheel was used. Possibly one of the dirtiest jobs I've ever had the pleasure of performing. All exposed metal was sprayed with a rust inhibitor primer/sealer. New sheet metal patches were cut and riveted in place. Welding would have been better but remember the budget. All the exposed joints were gooped up with roofing tar before the new panels were installed too. And the whole enchilada was given a good dousing with rubberized underbody spray. My biggest concern was of the structural integrity of the chassis given the extent of the rust damage. My neighbor an ex-racer and mechanic whose advice has been invaluable to me laughed it off saying I should have seen the Fiat he used to race in the 70's. Rusty's frame rails were essentially untouched and with the addition, eventually, of a roll cage the chassis should be adequate...I hope. If not donor shells for the 2nd gen RX-7 are pretty cheap at about $500. On the bright side I swept up about 3 pounds of rust debris! Weight savings? So with new motor mount installed, new el-cheapo Pro-Stop front brake pads from Pep Boys, and rust repaired the car passed inspection and was registered with the MVA as street legal. Oh and I also had to replace a headlight - high beam out. The next hurdle would be the state emissions test. This worried me more than anything else. More on this later.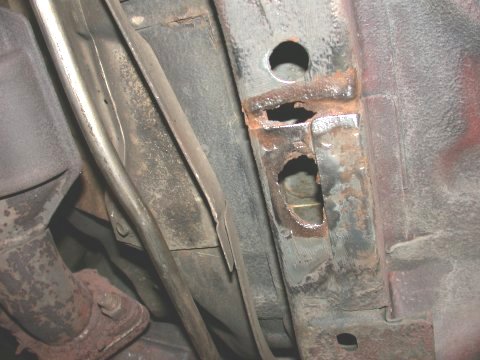 A small bit of frame rail rust..DAMN!
The worst - rear fender rocker panel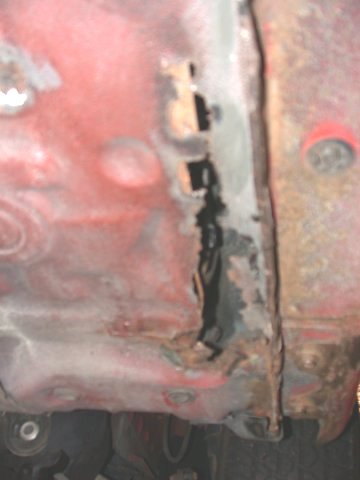 Some floor pan holes.
---
Hooptie to Hotrod: Part 1
Scrap Metal: Part 2
Cosmetic Fluff: Part 3
Brake Gravy: Part 4
Exhaust Work: Part 5
Dieting and Some Oil Cleanup: Part 6
Cooling Hacks: Part 7
Underhood Miscellaneous: Part 8
Interior Gauges Plus: Part 9
Own a Lincoln? Suspension Upgrades: Part 10
New Shoes: Part 11
What's Next: Part 12
A Twist: Part 13
Sweatin' to the Oldies: Part 14
More Suspension Work: Part 15
Some Heart and Soul: Part 16
Chapter II: To Jump to the Next Series of Installments: Begins with Part 17 - A Good Rear End
---
BACK TO THE MAIN PAGES AND THE 3RD GENERATION RX-7 STUFF
7-UP CLUB MAIN
OUR "LOCAL7" COMMUNITY | THE WORLD OF THE RX-7

---
If you would like to contact me and converse about my experiences with my RX-7's:
please feel free to send an e-mail to crispyrx7@yahoo.com
This page last updated December 11, 2003

---
Disclaimer: All images contained on this page are the sole property of C. Regan.