---
PART 3: COSMETIC FLUFF
Just Can't Be Seen Driving a Rust Bucket...I Just Can't
While waiting on the emissions test notification I decided to clean up Rusty a bit being the obsessive compulsive anal retentive kinda guy that I am. What a great opportunity to give body work a shot. Having never used Bondo before I figured this is as good a chance as any to work on a car with rust. So the rust holes in the roof panel were repaired and the rubber door moldings removed and the rust underneath was repaired.

That doesn't looks so bad.
Wire wheel and the extent of the rot becomes clear.
Some more grinding (look at all that rust) and some bondo.
A few layers of primer and wetsanding, a shot a Dupli-color and PRESTO-CHANGO...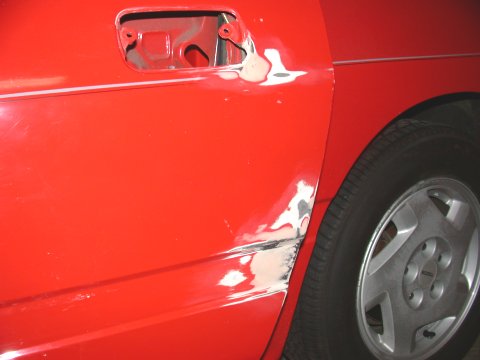 Under the rubber door strips...MORE RUST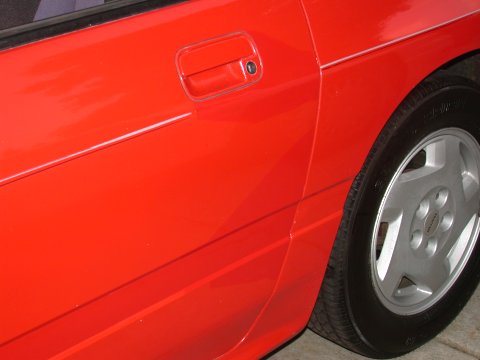 A littel bit more primer and a shot a paint and a halfway decent door again.
I dismantled the door and pulled out he "punched" door lock and repaired the damage there. I used factory colored spray paint which of course didn't match the 17 year old original paint but it was close enough.
If you are going to break into a car...don't do it with a slide hammer!
I removed and resprayed the rear lip spoiler too. The whole car was given a good wash and a wax and the wheels were scrubbed with navel jelly to remove decades of brake dust and whataya know? From 15 feet the car actually looked pretty good!

Me Likes Clean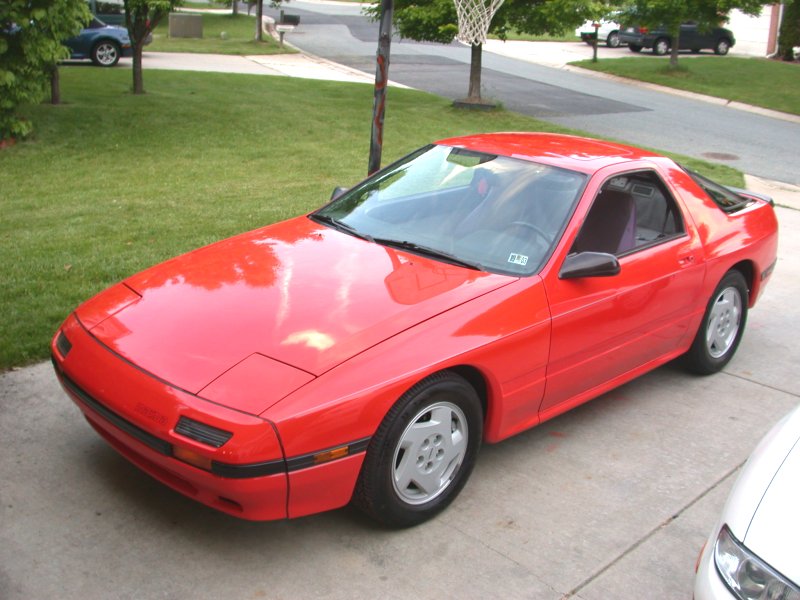 Not bad from 15 feet.
---
Hooptie to Hotrod: Part 1
Scrap Metal: Part 2
Cosmetic Fluff: Part 3
Brake Gravy: Part 4
Exhaust Work: Part 5
Dieting and Some Oil Cleanup: Part 6
Cooling Hacks: Part 7
Underhood Miscellaneous: Part 8
Interior Gauges Plus: Part 9
Own a Lincoln? Suspension Upgrades: Part 10
New Shoes: Part 11
What's Next: Part 12
A Twist: Part 13
Sweatin' to the Oldies: Part 14
More Suspension Work: Part 15
Some Heart and Soul: Part 16
Chapter II: To Jump to the Next Series of Installments: Begins with Part 17 - A Good Rear End
---
BACK TO THE MAIN PAGES AND THE 3RD GENERATION RX-7 STUFF
7-UP CLUB MAIN
OUR "LOCAL7" COMMUNITY | THE WORLD OF THE RX-7

---
If you would like to contact me and converse about my experiences with my RX-7's:
please feel free to send an e-mail to crispyrx7@yahoo.com
This page last updated December 11, 2003

---
Disclaimer: All images contained on this page are the sole property of C. Regan.